Hi,
I was doing some tests with RPA command line and suddendIy a pop-up appeared in my Firefox browser when Firefox and RPA launched. And the Macro didn't start :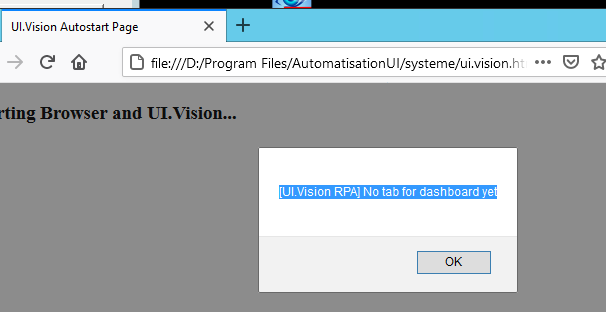 I have browsed the forum and I found that some users have encountred the problem but with no solution.
I don't know if there is something to do with memory (that's what the other threads suggested). When it happened I had 50% memory left, but indeed firefox and RPA were slow to open at this time. After closing the browser everything came fine.
I manage the problem this way (but it didn't happen again so far). My first lines in my macros are : I "csvSave" a file (ok.csv) an I do a "LocalStorageExport". My command line is called by a program which test in a loop if the ok.csv exists. If not after let's say 30 seconds, it kills Firefox and start again the macro, and there is a loop as well with a tempo. With this code, I assume that it is a temporary problem.
But do you have more information about this problem or a better solution ?
Thanks.
Eric