I want to create a while loop that stops at the end of the pages, like here: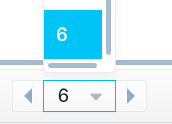 I see two ways of doing it (looking to do this without vision):
There is a hover stop sign above the next button when you're at the last page. However, because of xpath, it continues "clicking" even though it's not clickable. I'm not sure how to program in the hover stop sign (or what it's actually called) without using vision.

I can click on the pages button in the middle, scroll down and see the last page, then set the loop to run by that number. Problem is I don't know how to do that "scroll down and see the last page" part.
Looking for help on either of the ways (or if there is a more clever way) - thank you!