Whilst running commands using the scripting API, I have come across something a bit unusual.
In this script, I have run 'GoToSCDSite' and 'AboutUsPage' (in that order). There's duplicates for these macros with the random string on the end of each (as per the screenshot). These are .json files which are stored where my macros are stored (but are hidden files). When I double click on one, they're unable to find any images I'm referencing (presumbly this is a path issue). I'm using SeeShell Browser.
What are the purpose of these files?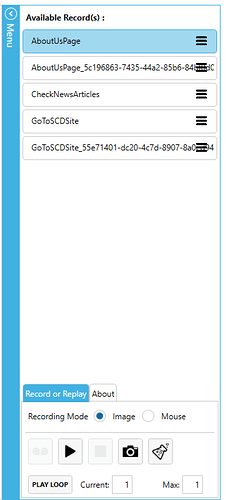 Another thing to note, is that the 'AboutUsPage' macro doesn't play after the 'GoToSCDSite' macro. Below is my code for this script.
$seeShellObject = new-object -ComObject SeeShell.Browser
$seeShellObject.open(10)

$seeShellObject.Play("C:\Users\XFU59478\Documents\SeeShell Demo\Macros\GoToSCDSite.see")
$seeShellObject.Play("C:\Users\XFU59478\Documents\SeeShell Demo\Macros\AboutUsPage.see")

$seeShellObject.close(10)