Win7, Chrome, UI.Vision RPA 5.5.7 and XModules downloaded and installed last week.
Newbie here… need to read and control home thermostat using Lennox windows web dashboard for iComfort thermostats. Have successfully created macros to capture and store data from and click on most clickable items but:
clicking on "program settings" causes dropdown window to appear with more clickable selections. With the RPA "click/select", I can get UIV to click on "program Settings" to cause the dropdown to appear but as soon as I returnto/click on the ui-vision programming panel to select from the dropdown, the dropdown disappears so have nothing to steer the click "Select" mouse to to identify the field on the pop-up to be clicked on. Same problem for the Fan drop-down selections.
also cannot capture the current program setting that is displayed on the "program settings" button… e.g. will not capture "winter" when storeText/select on attached picture w/o popup window showing.
Screen capture 1 shows the dashboard and capture 2 shows the popup window open.
Is there a way to get RPA to storeText/select data from the program settings button?
Is there a way to get RPA to click/select selections from the drop-down window?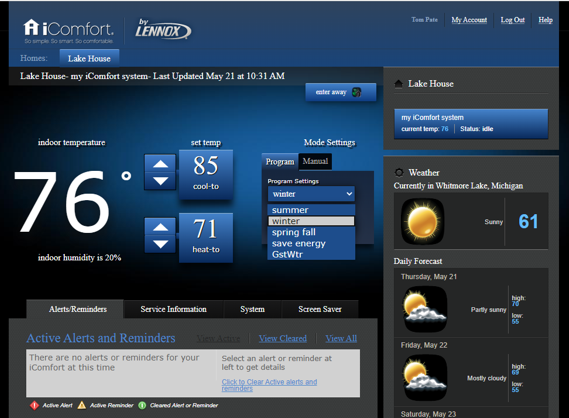 There is no direct url link to the .aspx page… only to the login page… don't know how to provide access to the control page without providing my login information which would expose HVAC control of my house. If helpful, I can provide the source html with sensitive info removed… very large file to wade though.