Hello - hoping someone can help with a couple of issues? (I've also emailed this to team at a9t9)
Kantu was working great for me until yesterday.
The two issues are:
Kantu was working fine yesterday morning, then I was amending one of my macros and I suddenly stopped being able to select any of the macros in Local Storage. I can select and run macros in Hard Drive storage.
Screen shot below. When I move my cursor up and down on the macros column in Local Storage, the little menu icon is highlighted, but I can't select any macros. When I right click on a macro, I just get the Chrome right click menu, not the Kantu one. For the macros in Hard Drive, I get the proper Kantu right click menu.
Have I broken something? How do I fix it?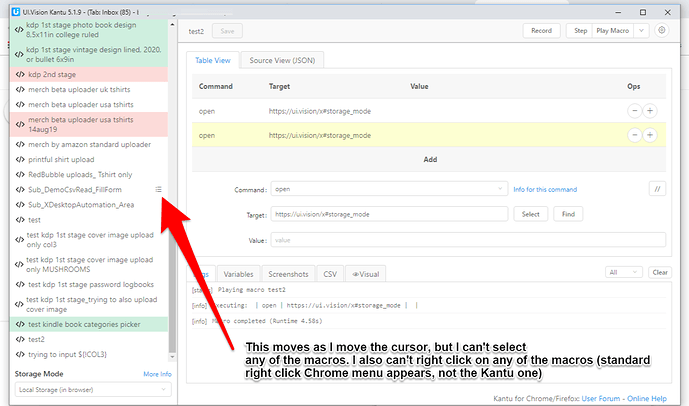 Second issue is with backups. I installed the FileAccess XModule today as I thought I would uninstall and reinstall Kantu to see if this would fix issue (1)
When I go to Settings/Backup/Run Backup Now. I get a backup zip, but this only contains Datasource, Images, and Screenshots. I've checked and have got all the 5 options ticked (i.e. Macros and Test Suites as well). I've tried unticking and re-ticking the option boxes. I've also tried unticking all boxes apart from the macros, this gives a zip containing no files.
Any idea what I'm doing wrong with this?
Thanks!